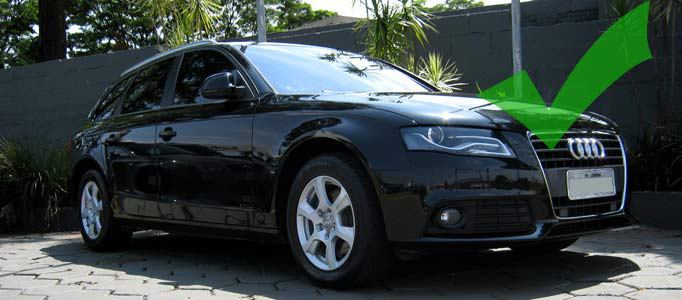 Also yes.
My choice is: Audi A4 Estate Diesel. Yep, just a plain old Audi A4 estate. I told you when I began that you wouldn't be travelling around in anything particularly flash so don't start.
Get the one with a 2.0 litre turbo diesel engine and you will be plenty covered for speed. I know this because my Dad actually has this car and it goes plenty quick enough for escaping from zombies. We haven't ever had to escape from zombies but, yeah, you know what I mean. You can get about 50mpg out of the A4 which is pretty awesome for a car that can do135mph (obviously it won't be doing 50mpg at 135mpg), so it has fuel efficiency down. Audi are pretty good with their engines and as such the A4 is actually quite quiet once it is moving although I can tell you from experience that when it starts up it's loud enough to wake a hung-over 21 year old.
Audi build their cars well, we all know this, all the big German manufacturers do, so you are safe in the knowledge it can take a beating. The A4 is also very popular so there will be an abundance of abandoned ones at the roadside for you to pillage for parts if the need arises. They won't need to be estates either because while the body might be different the engines are the same so that's a bonus. You might be wondering why I chose the estate instead of the saloon in the first place, well just think of all that boot space. When you live in a waste land you need to carry your belongings with you so that you can be ready to move at a moments notice, it also acts as a nice place to sleep should you get caught out without anywhere to stay.
Well those are my suggestions. I know that there are other kinds of zombies that exist in popular media but you are on your own when it comes to preparing for those. I have already spent enough time writing this when I should be working.
I am sure you will all be able to tell me a thousand reasons why I am wrong, so feel free to do so in the comments or on Facebook!
Want some more Halloween content? Check out James' How to zombie proof your car.