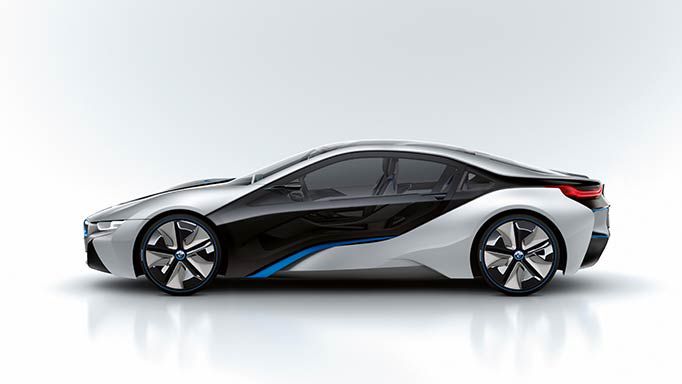 This thing wouldn't look out of place in Minority Report or I, Robot, and I think that's the point.
The most interesting thing about the i8 is that it still works. There are angles everywhere, and lots of LED lighting to make sure everyone knows it's THE FUTURE – but it is still absolutely a BMW machine, with a slimmer version of the recognisable kidney-grille and subtle nods to previous cars from the manufacturer.
The hybrid drivetrain is, from all reports I've read, a joy to drive – however this again is at odds with cars such as the Model S due to the fact there's still a petrol engine in there.
It's perhaps the only element of the car which doesn't take a deep-dive into science fiction, but this isn't to be seen as a bad thing. With full-electric cars, range anxiety is a big deal. The addition of a petrol engine to take over once you're out of electric range is important for many motorists, and shows that BMW wanted to make a car that looks to the future, but keeps us rooted firmly in the present. And isn't that what makes great design? I think so.
The Designs of the Year exhibition runs from the 25th March to the 23rd August 2015 at the Design Museum, in Shad Thames in London. Book your tickets in advance (£13 for an adult) at the Design Museum website.
As much as we love looking to the future, we have some amazing, forward-thinking cars available for finance right now. To try and find your perfect vehicle, take a look at our car search!
What cars do you think should have been in the Designs of the Year Exhibition? Do you disagree with any of these? Let us know in the comments, or head over to our Facebook page to share your thoughts!