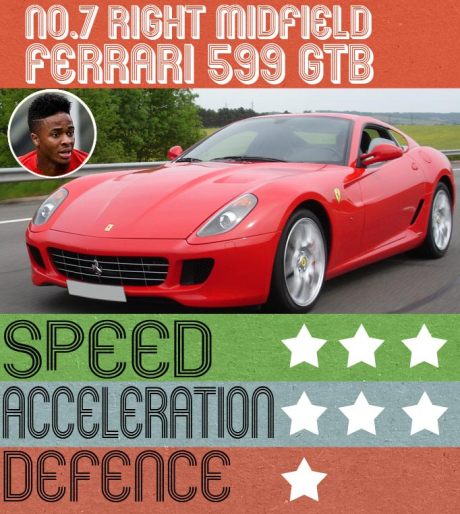 Position: Right Midfielder
Car: Ferrari 599 GTB
Why?: We have German engineering and discipline on the left wing, so we need a bit of flair and wow factor on the right. The Ferrari 599 GTB more than provides that. A beautiful design over an incredible body, the Ferrari brings speed and acceleration that would leave the crowd on their feet. No defender would want to see the Ferrari 599 running towards it, the turn of pace leaving defenders in the dust. This is not the car for defence stability. This is for speed, speed, speed!
Who?: A car like the Ferrari 599 begs for some latin american wonderkid to be chosen as its namesake. But if you are after frightening speed and acceleration, there is only one name – Raheem Sterling. Seeming to improve with every game, Sterling goes into the new season as one of the name's to watch. At just nineteen, he has the world at his feet. Now, if he sorts his hair out, he would really be able to claim the Ferrari 599 position as his own.