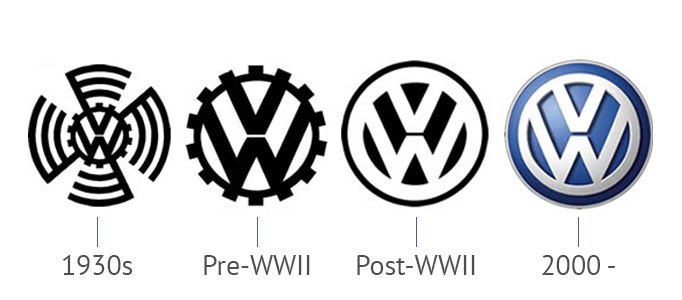 Volkswagen's history is linked directly with that of Adolf Hitler and while the company clearly has nothing to do with him or his way of thinking anymore, the influence is clear to see in their old logos.
Before the Second World War the German car market was in serious trouble, after German defeat in WW1 and the sanctions imposed on the German economy as a result, people simply could not afford to buy cars. Germany needed a cheap car and before his rise to power, Hitler had proposed the idea of a economically viable, cheap car for the masses. In fact Volkswagen literally means 'People's Car'.
Ferdinand Porsche met with Adolf Hitler, specifications for the car exchanged hands and production started, simple as that. Hitler even built a Volkswagen factory, backed with state money, to produce this new car. Unfortunately it turned out that Hitler had his own secret agenda (surprise, surprise), having no intention for the car to actually be for the people. Instead he had always intended it to become a military vehicle, to seat three men and machine gun, this is what the factory ended up producing.
You can see the Nazi Swastika was clearly an influence on the 1939 VW logo and even before WWII, the logo doesn't exactly look friendly. Resembling a cog or, depending on how you look at it, what could easily be a wheel that drives the tracks on tanks. That's what it says to me anyway, it certainly doesn't invoke any pleasant feelings for the company.
The company was taken over by the British but none of the big car manufacturers at the time wanted to take on a company that had links with Nazi Germany so it was handed back to the German government. I wonder how bad they are kicking themselves right now? The now Nazi influence free VW obviously removed anything sinister from the Logo after WWII and that's where we get the logo we know today. A further update in the year 2000 added some well needed colour to the design and it has stayed like that ever since.