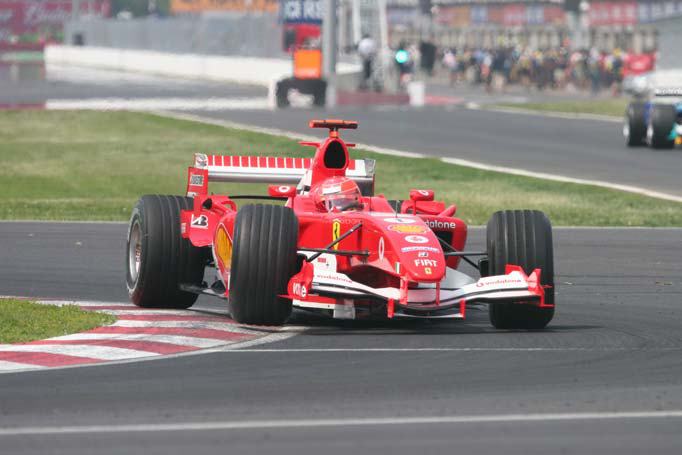 Schumacher in his Ferrari.
Back in 1994, the Australian Grand Prix in Adelaide hosted the final race of the season. Schumacher and Damon Hill were separated by one point at the top of the standings. The German was leading the race up until lap 36 when he lost control and collided with a wall. Attempting to get back on track, Hill saw his opportunity and pushed hard to overtake his rival. Seeing this, Schumacher drove his car across the front of his rival, causing irreparable damage to his car, and forcing Hill to retire several laps later.
The other drivers were furious with the action, blaming Schumacher for doing it on purpose. However, the racing stewards labelled it a racing incident and took no further action, handing Schumacher his first title.
Things changed in 1997. Once again the title came down to the final race of the season, this time the Spanish Grand Prix in Jerez, Spain. Schumacher was racing against Jacques Villeneuve, one point ahead of his title rival with 78 points. Before the race, perhaps with Adelaide '94 in mind, Max Mosley the head of the FIA at the time issued a warning that anyone trying to unfairly influence the outcome of the championship would be punished.
Schumacher was leading the race heading into lap 48 but Villeneuve was closing fast. Halfway round the track, Villeneuve saw an opening and tried to pass his German rival. It looked like an excellent manoeuvre but Schumacher turned across, colliding with Villeneuve. Schumacher's car was out of action, Villeneuve limped on. Slower than before, he struggled to keep ahead of his rivals, finishing in 3rd place, handing him the title.
After the race, officials determined the collision between Schumacher and Villenueve to be a racing incident, a decision perhaps enhanced by the fact that Schumacher's move failed. This time he wouldn't get away with it and at a hearing, Schumacher was stripped of his second place and disqualified from the 1997 World Championship. Despite this, he still kept his race victories and was allowed to continue as normal for the following season.