Renault Twingo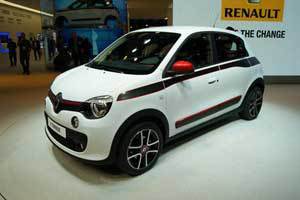 It's OK, guys, we can all calm down now. The VXR has gone, and now we can talk about a nice little family car. Renault's Twingo doesn't get as much press as the bigger cars like the Clio or the Megane, but it's still a great little motor, and the same can be said about the 2014 model shown off at Geneva.
Slightly shorter overall, the new car actually has more room inside than its predecessor, due to a longer wheelbase. Adding to this, the car has 50/50 folding rear seats and also the front passenger seat folds forwards to give a surprising amount of space for storage for those lonely trips to IKEA for a dinner table at which to eat your meal for one. If you do have friends, it's super easy to get in-and-out of the car due to having 5 doors. The handles for the rear doors are concealed nicely in the windowframes, giving the car a much slicker look!
Available in a couple of different petrol engine sizes – one naturally-aspirated, one Turbocharged – the Twingo will have a max power of 90BHP, which honestly isn't awesome, but for the intended use of city-driving, it's more than adequate. Expect to see a few of these on the roads sometime later in the year.