2. Scalextric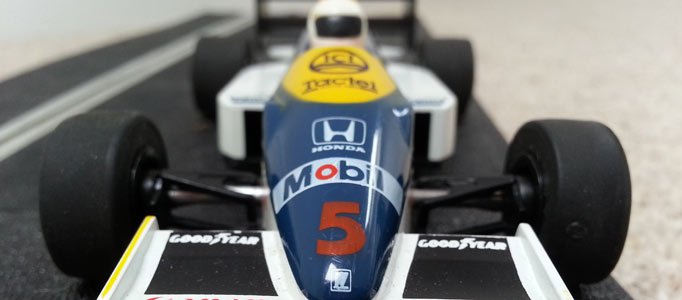 Image Credit: Kieren Pitts
License: https://creativecommons.org/licenses/by-nc-nd/2.0/
The decision for top spot was really difficult and I should think most people reading will know what has taken #1 simply by process of elimination but we will get to that in due course.
Scalextric is a car racing toy that is powered by electricity, you simply slot the car/s on to the track, squeeze the handheld throttle and away you go! When I say you simply slot the cars onto the track, that bit is simple, assembling the track certainly was not. It may well be easier to assemble these days, for the sake of today's children I hope it is. The track I had as a child was clearly made by some evil designers who just wanted to make children cry.
Aside from the infuriating track design, Scalextric was a superb toy. The track was totally customisable; you got a load of individual track pieces in the box which could be arranged into any track you could think of as long as it joined up. Sure there were specific track instructions, but who uses instructions? Not me that's for sure. That could explain the trouble I had assembling mine I guess.
A standard set would come with two cars and two throttles so that you could race your friends/siblings or in my case Dad, because he clearly bought it for himself masquerading as a present for his two boys. No one ever really outgrows car toys. There was no way to have more than two people racing when I was younger, the extra cars would drain the power so they all went slowly and you couldn't over take. After a bit of research |I have found out that they now make Scalextric Digital which allows you to have more cars and more people controlling them, with places to overtake build into the track! Too late for me unfortunately.
There were a vast number of different cars you could buy separately and they worked straight out of the box, they just had to be slotted on to the track. Some were faster than others, for example the Formula One cars were uncontrollably fast and if you even thought about going around a corner it was off the track and embedded in the wall. I say uncontrollably fast, what I mean is that I couldn't control them. These guys seem to manage it just fine.
That was the skill of Scalextric though, anyone can squeeze the trigger all the way but getting it around the track quickly whilst staying on was more difficult. You see the race doesn't stop if you come off the track, you have to grab your car and get it back on the track again to keep going. There were a few nice touches with Scalextric that really finished off the whole thing. Each set usually came with a few bit of scenery like trees, spectator stands, hay bales, etc. You could buy scenery separately and get your track looking the part, probably more for the adults than the children because I could never be bothered to set that stuff up but it is still a nice feature. I used to really like how the headlights and brake lights came on when you raced as well.