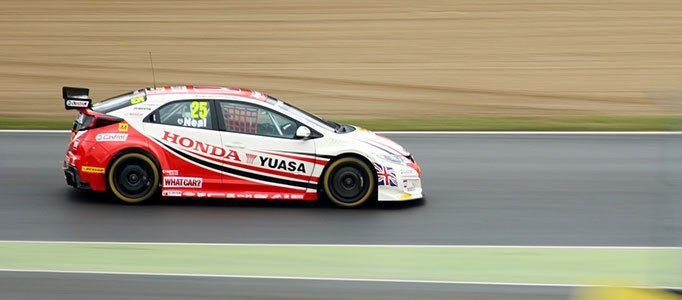 Image Credit: Flickr – rwsmotorsport
Race three saw another nail biting finish, Matt Neal and Jack Goff, first and second respectively, were split by just 0.196s, the battle for first started a few laps back and didn't stop until they crossed the line. Such is the beauty of BTCC. The reverse grid system that BTCC use meant that Rob Austin, who finished tenth in the previous race, started off in pole position. It took Neal and Goff most of the race to get past Austin but they managed it towards the end. Jason Plato's luck didn't improve much either, after starting at the very back of the grid due to not finishing the second race he made it up at high as 12th before dropping back down to 16th. Rob Collard, who won the first race, ended up in the gravel towards the beginning of the race. One of a number of incidents lower down the pecking order that caused the safety car to make an appearance.
All in all it was a fantastic weekend of racing, a great way to start the season for sure. The weather is starting to pick up, we've got Formula One, Formula E and BTCC on regularly. What more could you ask for?
Fancy some more motor sport? Check out our Beginners Guide to the World Rally Championship
Why not take a look at some of our Best Finance Deals? We've got something for everyone!