Aston Martin Vulcan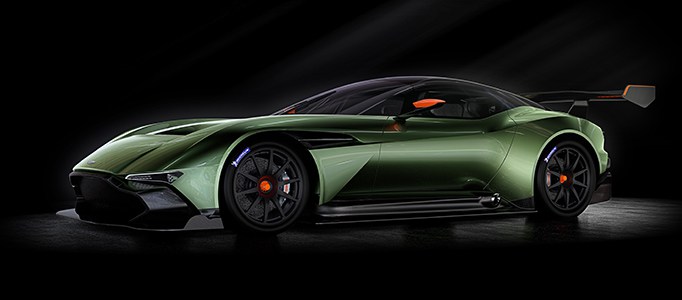 I have a bit of a love affair with Aston Martins so my opinion might be somewhat biased but I don't think anyone could disagree when I say that the Aston Martin Vulcan is the best looking of the trio. I'm not saying it's a particularly pretty cars by the way, this machine is not built with aesthetics in mind, it's built for speed. That being said, it keeps the sweeping lines and sleek shape that Aston Martin is so famous for, albeit with some slightly gaudy additions to it.
You can't drive this one on the road either, track only just like the others. It is pretty exclusive too, only 24 will be made. You don't get to buy one a just hop in it at the track though, oh no, that would be too easy. First you must complete the driver training course which consists of a few stages. First you have to complete the Vantage GT4 section, then you move on to the One-77, once you complete that you are allowed in to your Vulcan. Although you must work your way up through the power setting, from 600 hp to 700 hp and finally to the full 800 hp.
The Vulcan houses a 7.0-litre V12 which produces 800 bhp, the Vulcan is the only one of the three without an electric engine to compliment the petrol one, which is why it is down on power to compare to the other two. However it is still capable of 0-60 in less than three seconds and will continue past 200 mph.
If you fancy feasting your eyes on these three monsters you'll need to get yourself down to Salon Privé, chances are slim you'll ever see one out in the wild that's for sure.
If you enjoyed this blog, you might like to take a look at some of our others!
Which cars do GQs best dressed men drive? Find out here.
Presentation is everything. Find the car to match your ambition.