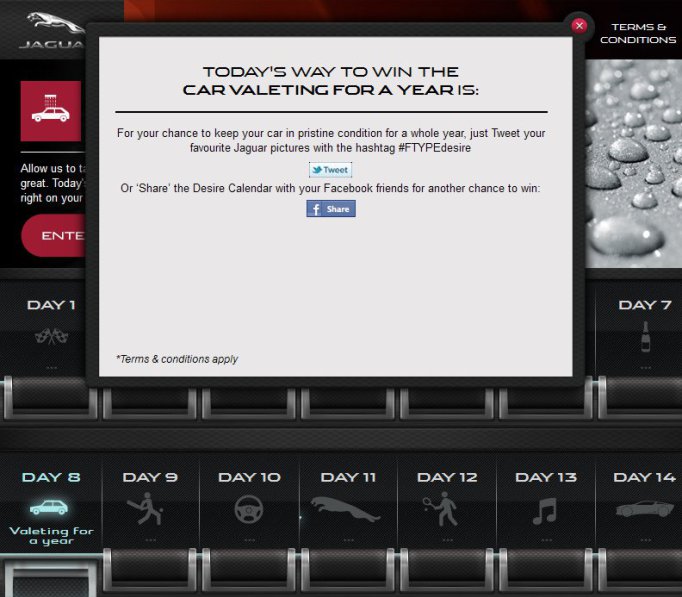 The Competition App on Jaguar's Facebook page
From the moment the hashtag was repurposed before Valentine's till the end of the first week of the competition, the hashtag was used almost 800 times. It was used by 350 people. Do you think they were the so-called social influencers who gave the #FTYPEdesire the lift? No, 300 of those people had fewer than 1000 followers, in fact 195 of them had fewer than 300 followers!
Furthermore, 310 of those people had a follow rate larger than 1, i.e. they follow more people than the number of tweeps following back. According to the big book of social media myths (it's the book that the social media "experts" read their lectures from) having a follow rate larger than 1 indicates a spam account.
In reality, 95% of the people who matter for your social media campaigns, people you actually want as followers, will have a follow rate larger than 1. Unless you're a celebrity, a big brand or a social media "expert", it's very difficult to maintain a below-one follow rate. Yes, there are techniques to do it but your average follower won't be savvy enough to. So, if you're ignoring all tweeps who have a bad follow rate, you're most likely ignoring the best part of your potential audience. Worth reconsidering?
In my opinion Jaguar has carried out an exemplary social media campaign. Yes, you may argue that having Lana Del Rey, Damian Lewis and Ridley Scott Associates on board will have helped a lot, as have the presence of a popular website and a pre-existing Facebook fanbase, but you can't deny that the way they've executed hashtag priming is truly remarkable.
Although considering the execution of this campaign, I expected Jaguar to do better numbers-wise, their growth is not to be sniffed at. They have managed to get onto our Top10.
From the launch of the competition to the end of March they've grown their Facebook fanbase by 13,596 people, Twitter following by 414 and Instagram following (Jaguar is one of the very few car manufacturers active on Instagram) by 1,299.