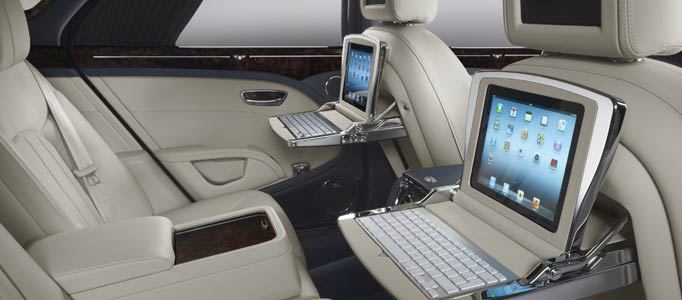 3. As important as it is for the driver to have comfort, there are some car manufacturers who are moving their focus to the passengers. When you're earning enough money to leave the driving to someone else, you want to be sure you're investing in a car that treats it's passengers like royalty. When the Bentley Mulsanne was created, it quickly became the ultimate in luxury for the passenger, who enjoys an unsurpassed level of comfort.
With positioned mood lighting, luxury leather upholstery, wood veneers and knurled stainless steel, stepping into the Mulsanne is an experience that can't be matched in any other car. Attention to detail distinguishes Bentley from its competitors – even the leather is specifically picked from herds in cool climates where few insects mean the hides are blemish free.
As if that kind of luxury isn't enough, the Mulsanne also comes equipped with an optional bottle cooler, which can hold two champagne bottles, complemented by a pair of David Redman of London champagne flutes, which were themselves inspired by the design of the Mulsanne's alloy wheels.
All work and no play? Not to worry, because Bentley's got that base covered as well, with built in iPad picnic tables and Wi-Fi, transforming the Bentley into a moving office.