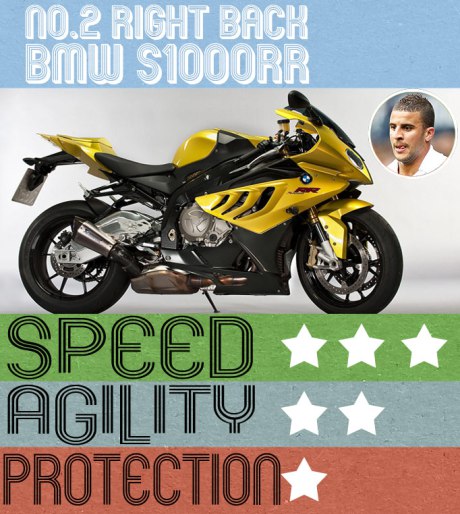 Position: Right back
Car: BMW S1000RR
Why?: In modern football, defence has almost become a second thought for most full backs. The ability to get forward and help in attack is much more desired. So you want something fast and nimble, especially for those desperate runs back into defence. The BMW S1000RR fits the bill. Super fast and able to weave in and out of traffic, the S1000RR would easily get up and down the pitch for ninety minutes. 0-100mph in under six seconds would make the BMW a frightening opponent for any defenders. As it is a motorbike, it perfectly matches the vulnerability in defence of the modern full back.
Who?: Looking through the Premier League teamsheets, no right backs really stand out. Glen Johnson has suffered a drastic drop in form, Cezar Azpillicueta is a left back masquerading on the right, and Zabaleta just lost the World Cup Final (Okay he's quality, but we didn't want too many Man City players in the line-up). In the end, we plumped for Kyle Walker. Extremely fast and well built, as well as suspect defensively, he will have to do!