Two famous race venues
The Nürburgring is one of Formula One's most historic venues, dating back to before the Second World War. Becoming the main venue for the German Grand Prix in 1947, the famous circuit has also played host to many other racing disciplines, with major car manufacturer's proving their car's worth on the track. The "Nordschleife" layout of the course is 22km's long and driver's regularly compete to beat the lap in under 8 minutes. The Grand Prix circuit was changed in 1984 to the one used today. 5,148km long with 16 turns, the circuit is a favourite of Lewis Hamilton and Mark Webber. Schumacher's success in the sport led to a second grand prix being held in Germany from 1995 to 2006, as the European Grand Prix.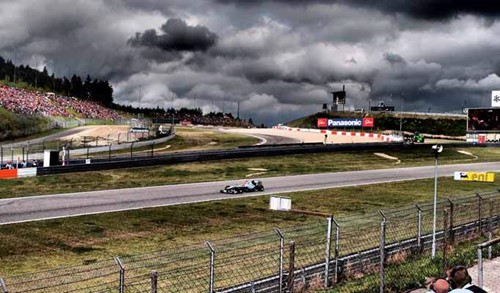 Mercedes at the impressive Nurburgring.
The Nürburgring was replaced by Hockenheim as the German Grand Prix between 1977 to 2006, losing its place because of safety concerns from drivers. The Hockehnheimring was originally built in 1932, using forest roads as part of the circuit. In the beginning it was mainly used as a motorcycle race circuit, more variations of racing made use of the track as time progressed. Tragedy struck in 1968 when former F1 champion Jim Clark was killed racing in Formula 2 at the circuit. The track was redesigned in 2002 to make the race a better spectacle for fans, reducing the length of the straights to put less stress on the engines.
In 2007, Bernie Ecclestone announced that the German Grand Prix would alternate year by year between Hockenheim and the Nürburgring. Increasing costs to host the race have put financial strain on both race circuits. It is likely that the German Grand Prix may soon be disappearing from calendars for quite some time.