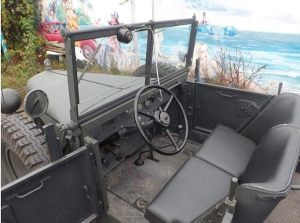 Thought to have been used as his personal transport during the war, Himmler's Wanderer W11/1 with just 63,500 miles on the clock has been confirmed as authentic by military historians. On sale for £400,000, the Nazi SUV is in excellent condition for its age. Alongside his fleet of limousines, it is thought that Himmler used the Wanderer as transport when inspecting concentration camps or the Russian killing fields.
The Nazi car is being sold by the Oldtimer Agency, a dealer in Germany who sell classic cars to celebrities and royalty – including a Rolls Royce to the King of Morocco. Having already fielded several enquiries for the car, Michael Frohlich of Oldtimer Agency has already turned down a few offers, fearing that the potential buyers were neo-nazis who would use the car for propaganda or illicit purposes.
Himmler's auto was previously stored at a museum in the Latvian capital city Riga. It was displayed for its unique cultural and historical significance. Ohrlich told the Daily Mail newspaper that he obtained the Nazi car from a Financial consulting firm, and is hoping for a rich American collector to purchase the car from him.