Bonnie and Clyde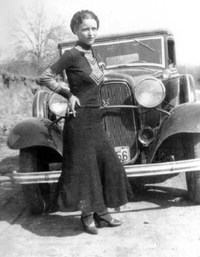 The American outlaw was further romanticised by the crime spree of Bonnie and Clyde. Active around the same time as Dillinger's public enemy era, the discovery of paperwork, poems and photos from the pair left behind after a hasty escape firmly established the pair as lovers on the run, both sexy and dangerous.
Unlike other criminals at the time, Bonnie and Clyde used one car for the majority of their crimes. Once again, Henry Ford unwittingly provided the vehicle of choice. The stolen 1934 Ford Fordor Deluxe Sedan covered over 2,500 miles as the Clyde gang carried out their crime spree across America.
The gang evaded capture for over three years until the car that had fared them so well became their coffin.
On May 23, 1934, Bonnie and Clyde were driving to visit relatives in Louisiana when they were ambushed by a posse. Six police officers fired on the car with automatic rifles, shotguns, and pistols, a volley of gunfire so loud that each member of the posse suffered temporary deafness for the rest of that afternoon. A total of 130 rounds were used on the car.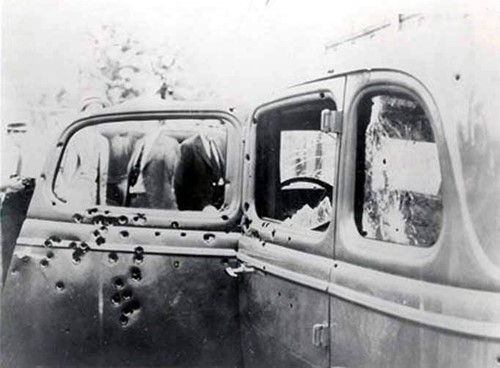 Crime scene photograph of the Bonnie and Clyde car.
When searching the car, the police found 15 sets of license plates from various states, showing just how much effort they made to keep hold of just one stolen car.
The death of Bonnie and Clyde signalled the end of the famous bank robber era, with Dillinger dying a few months afterwards, as well as other notorious criminals such as Pretty Boy Floyd and Baby Face Nelson each meeting their gruesome end.
The Bonnie and Clyde car is now on display at a casino resort in Las Vegas.