And the crazy Japanese thing of the year goes to… Honda UNI-CUB β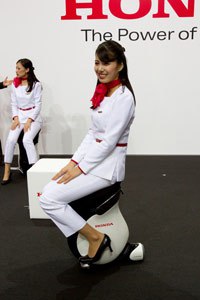 Honda have their fingers in a lot of pies these days. From automobiles to robotics, they have a unique position to bring products to market that haven't been seen before.
Taking research from their ASIMO robotics program, the UNI-CUB announced in May 2012 allows the rider to use their body weight to control the machine's direction.
The latest version shown off at this year's Tokyo Motor Show – and sporting a swanky "β" suffix – is smaller, lighter and includes a handy stand to improve stability when getting on and off the device.
Honda scheduled test-drives throughout the show, and have planned to allow businesses and organisations to lease the UNI-CUB β, so you may be able to go and get a coffee without ever having to stand up. Huzzah!
Did we miss your highlight of the show? Let us know on the comments! Did you know we have Facebook, Twitter and Pinterest accounts? Take a look!