Diagnosis: Fair Credit Rating
I think I have a fair credit rating
Having a Fair credit rating might put you off trying to get credit, as you might feel like you aren't going to get the interest rates you wanted or need. It isn't as bad as it seems though. A Fair credit rating is still better than a Poor one and your credit score is not set in stone as there are a number of steps you can take to drastically improve it.
If you'd like to view other credit ratings, you can find them all in our Diagnosis Centre.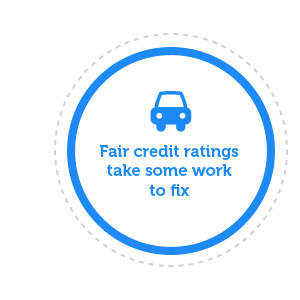 What is a Fair credit rating?
A Fair credit rating means that your credit file has a number of discrepancies on it or a couple of major negatives attached, although not as many as someone with a Bad credit rating. You can find a list of all the things that can negatively affect your credit file, big or small, in the Causes section of the Credit Clinic.
What does it mean for me?
A Fair credit rating will mean that you'll have fewer options for finance than someone with a Good credit score and that you'll not get the low interest rates that you would've been hoping for. You're likely to still be able to get credit, but you'll end up paying more in the long run than you might have hoped.
What does it mean for creditors?
Having a Fair credit rating means that, to a lender, you're considered somewhat risky to lend to. Lenders will weigh up whether the risk is worth the gain that they would get from the heightened interest rates that you're likely to be charged. There are lenders that specialise in lending to people with lower credit ratings so there are lots of options still available to you.
What does it mean for my car finance application?
We have a large panel of lenders that can cater to people with all kinds of credit ratings. When you apply we'll perform a soft search of your credit rating and then match your circumstances with a suitable lender.
How can you fix a Fair credit rating?
To start the process of improving your credit rating you should first visit the Causes section of our Credit Clinic to find out what may have negatively affected your credit rating. Then visit our Credit Clinic Treatment Centre to begin improving your credit rating. You can also visit our Resources page to find free, impartial advice.