Soft Credit Search: Why are we the only car finance provider to do it?
We pride ourselves on being the most customer focused and ethical car finance provider in the market. Because we are committed to making sure our customers get the best finance package for their individual circumstances, we compare more than 90 lending options to find them the right car finance option.
Unlike most car finance providers, when you apply we don't conduct a full credit search during this lender comparison stage, as this would leave a record on your credit file and potentially damage it, regardless of your application's outcome.

Why is this important?
Having past applications recorded on your file – especially cancelled or unsuccessful ones - can lower your credit rating and cause you to be refused when you apply for finance in the future. Any lenders will see that you've been trying to apply for credit across several providers and deem you to be a risky or desperate case, even though this is not true in the vast majority of cases.
Most of the time, customers simply want to shop around to look for the best deal available, and rightfully so. Conducting a full credit search with each application is one way that lenders try to put people off shopping around. If you know your credit rating is going to suffer with each application, you won't apply with more than one company. In the end, this means that customers are not getting the best deal and end up spending more than they have to on their finance package – as an ethical lender, that's not the way we do business.
Find out what else can affect your credit rating in the Creditplus Credit Clinic.
How Creditplus are different
Unlike other major car finance providers, we don't undertake a full credit search until we know a customer has a very good chance of being accepted by one of our lenders. Instead, we conduct a 'soft credit search', also known as a 'quotation search', which is basically a snapshot of your credit report, instead of a full credit search. This allows us to examine all the important details we need to see your creditworthiness and compare more than 90 lending options without leaving a footprint on your credit file.
Once we've found you the right car finance package, we'll speak to you to confirm if you want to proceed with a full application, including a full credit search.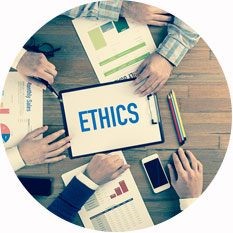 Ethical Lending: car finance you can trust
We understand that applying for any form of finance can be a daunting prospect. In fact, addressing this was the reason why we were established: to empower customers with the tools and knowledge they need to make an informed decision about their car finance options. Soft credit searches are just one part of our commitment to providing a fair financial service, with Ethical Lending always at the centre of our business decisions.
Apply today to find the right car finance package for you. Completing our 2-minute, no obligation online form will give you an instant decision* on your lending options. If you're looking for car finance you can trust, Creditplus is the right place you.
See why our customers recommend Creditplus on our live Customer Reviews page.
 *An instant decision is based on a representative APR of 9.9%