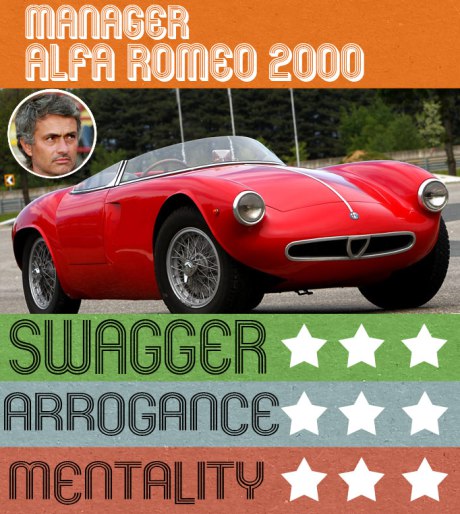 Position: Manager
Car: Alfa Romeo 2000 Sportiv Spider
Why?: For a dream team of superstars full of egos and arrogance, you need a manager with some pedigree, a bit of class to keep the lads together. The Alfa Romeo 2000 does the trick. Whilst not as flashy as some of the other cars, its wealth of experience will give it the authority over the team needed. The Alfa Romeo 2000 has that bit of swagger about it to inspire confidence, that arrogance to make the team feel confident going out onto the pitch. Okay, we may be stretching the analogy a bit now but we're at the end!
Who?: An arrogant manager with a wealth of European experience? Hmm, who could that be. Jose Mourinho. A team of superstars needs a superstar manager and none in the manager game have the same as brand Mourinho. It helps that he has the walk to follow up the talk, but the primadonnas in the team may be upset that the spotlight falls more on the man on the sidelines.
And that's the team! Twelve fantastic cars and motorbikes. We're pretty confident that this team could beat any others. What do you think? Have a team of cars that could beat ours? Prove it! Post your dream team in the comments and we'll pit them against each other in a battle.
Missed the rest of the team?